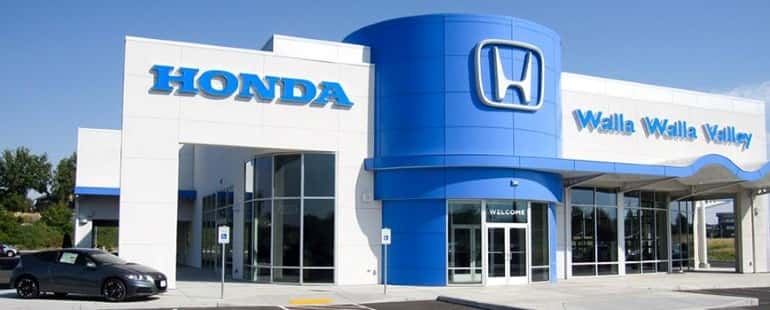 Walla Walla Valley Honda Is the Easiest and Most Likeable Honda Dealer Walla Walla Valley Drivers Can Go To!
Shopping for a new or used car should be a pleasant and simple experience, and the Walla Walla Valley Honda Principles of Awesomeness work to make your next automotive investment as easy as possible. As the premier Honda dealer for the Walla Walla Valley, we create a shopping experience that delivers the utmost in customer satisfaction. Here's how our Principles of Awesomeness work for you.
Upfront Pricing, No Negotiation Needed
Unlike other car dealerships, Walla Walla Valley Honda doesn't make clients haggle for a fair price because we provide upfront pricing. Here's how our Pricing Promise works for you.
Our sales professionals keep close tabs on the market to establish the most competitive price.
Whatever that price may be, that's precisely what the customer will pay.
Best of all, there's no need to negotiate, since the price you see will always be the best price available.
We believe the typical "song and dance" is a waste of time for both buyers and sellers, and our Pricing Promise eliminates this stress altogether. If you ever have any questions about the price of a vehicle, all you have to do is ask.
No Buyer's Remorse Money-Back Guarantee
Thanks to our money-back guarantee on all vehicles in our inventory, there's no such thing as a disappointed customer at Walla Walla Valley Honda. Our priority is to make sure that you're completely satisfied with your investment for many years after. If you have any doubts whatsoever about your purchase, here's what to do:
Bring it back to our showroom within 3 days or 300 miles.
We'll give you your money back and cancel your contract with no questions asked.
If you like the model, but don't like the color or trim, you can make a trade for an equivalent model within 5 days of your purchase.
Buyer's remorse is a thing of the past when you choose Walla Walla Valley Honda.
Experience Our Principles of Awesomeness
Instead of feeling pressured to buy a car for a price that a salesperson pushes on you, our non-commissioned sales team will follow your lead. Since our sales professionals are salaried employees that receive bonuses for satisfied customers, there is no need for pressure tactics. You can tell them what you're looking for, and they'll help you to find the right match without any anxiety. They'll never try to sell you a model that is deliberately overpriced. We want you to find a car that best meets your needs and fits your budget. If your shopping experience and overall purchase were satisfactory, our sales staff receives a bonus. At the end of the day, everyone is a winner when you shop at our showroom for Honda vehicles near the Walla Walla Valley.
Trade-In Guarantee: We Buy Even if You Don't
For many customers, trading in a vehicle to put its value toward their next purchase is a big step in the car-buying process. At Walla Walla Valley Honda, we offer a trade-in guarantee for your vehicle, whether you decide to buy from us or not. Here's how it works:
Simply bring your vehicle to our dealership and our experts will provide a fair, accurate estimate.
Once a quote has been made, we'll give you a check for the amount we valued your vehicle at.
Even if you're not selling a Honda or making a vehicle purchase from our dealership, we'll buy your car at a competitive rate.
True 24/7 Availability
Getting in touch with Walla Walla Valley Honda is easier than ever, because we're available for you 24/7. Whether you're in the Walla Walla Valley area or in a different time zone, our dealership can be reached using the following methods at any time:
Phone
Text
Email
Facebook or Twitter
Our staff will be able to answer any and all questions you might have at any time. There's a reason why folks are choosing our dealership for their next automotive investment, and that reason is clear. Between our incredibly accessible sales team and the perks offered by our Principles of Awesomeness, you can count on our professional staff to provide a positive shopping experience.
Choose Walla Walla Valley Honda Today
To take home the car of your dreams from a Honda dealer near the Walla Walla Valley, visit our showroom at 1240 SE Commercial Drive in College Place and start browsing today. We're open Monday through Saturday from 9:00 a.m. to 6:00 p.m.