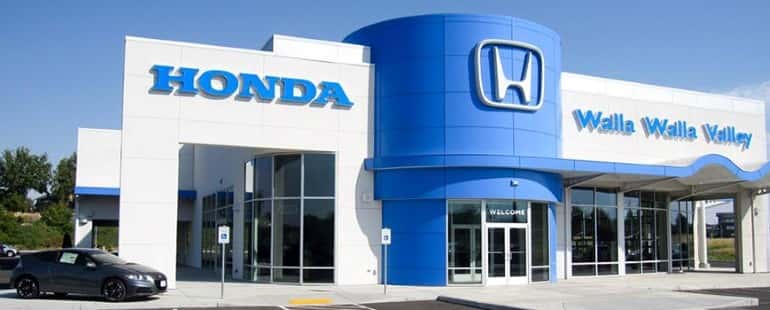 The Most Reliable Tri-Cities Honda Dealership Is Walla Walla Valley Honda
Drivers nearby Kennewick, Pasco, and Richland searching for a Honda dealer that's outfitted with every current Honda model on the market, a variety of used vehicles, reliable Honda service, and a relaxed shopping atmosphere should visit the preferred tri-cities Honda dealership, Walla Walla Valley Honda. Unlike other Honda dealers in the area, we utilize our very own Principles of Awesomeness to make every visit as pleasant as possible. Our focus lies in providing the utmost in customer satisfaction, and here's how we do it.
Upfront Pricing Promise, No Negotiation Needed
When you review the price of one of our new Honda models or used cars at Walla Walla Valley Honda, we provide an upfront pricing guarantee. Hidden charges, additional fees, and needless negotiations have become part of the typical car shopping experience, but our upfront pricing promise does away with all of that:
We monitor the automotive market on a constant basis so that we can provide the most competitive price for our clients.
The price on the window sticker, our website, and the offer from our professional sales associates will all be the same.
There are no negotiations or extra fees to worry about.
Our pricing promise is our commitment to Kennewick, Richland, and Pasco customers that offering the best deals available is our top priority.
No Buyer's Remorse Money-Back Guarantee
If you buy a car from us and aren't completely satisfied with your purchase, we offer a money-back guarantee. When you shop our tri-cities Honda dealership, there's no such thing as buyer's remorse. Here's how our money-back guarantee works:
Whether you've bought a brand new Honda or a used car from us, you can return it within 3 days or 300 miles, whichever comes first, for a full refund.
There are no questions asked, and we will happily help you choose a different vehicle from us upon request.
You can also exchange your recently purchased Honda for the same model in a different color, trim level, or with added tech features within 5 days.
You shouldn't regret an automotive investment, which is why we offer this money-back guarantee.
Experience Our Principles of Awesomeness
The sales associates at other dealerships are focused on selling you the most expensive car they can because their income largely depends on the amount of money they receive on commissions. That's not the case at Walla Walla Valley Honda:
Our sales staff work on a salary, so there is no pressure to sell you a vehicle that isn't in your price range.
They receive bonuses based upon your level of customer satisfaction.
We want you to invest in a car that best fits your style and meets your needs. At the end of the day, the interests of our team are aligned with yours.
Since we want you to be happy with your purchase, because it benefits you and our sales professionals, there's no reason for us to pressure you into buying a more expensive car.
Trade-In Guarantee: We Buy Even if You Don't
Trading in your current vehicle to Walla Walla Valley Honda is quite easy, and there's no obligation to put its value toward a purchase from us. You can value your trade online using our estimator tool, or bring it to our dealership and have one of our technicians provide you with an accurate quote:
We'll provide a fair estimate for your car even if you decide not buy another model from us.
Unlike other dealers and private sellers, we try to make the process as easy as possible.
We take all makes and models for trade-ins, not just Hondas.
After we give you your estimate, you can walk away with your money and put it toward one of our cars or take your business elsewhere.
True 24/7 Availability
One of the best parts about shopping at Walla Walla Valley Honda is how readily available all of our employees are. We go above and beyond with our customer service by staying in contact through a variety of methods, making us available 24 hours a day, 7 days a week. You can reach us via:
Telephone at 509-593-4774
Text message
Facebook and Twitter
Or email
If you ever have any questions or concerns that need tending to as soon as possible, get in touch with us, and we'll be here to help.
Shop the Honda Dealership Tri-Cities Residents Prefer Most
To get behind the wheel of your next automotive investment from a Honda dealer near Kennewick, Richland, and Pasco, visit Walla Walla Valley Honda at 1240 SE Commercial Drive in College Place to see why we have so many satisfied customers.