Equity Promise Guarantee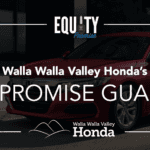 We have started a new program at Walla Walla Valley Honda called the Equity Promise Guarantee. As a valued customer of ours, we promise to keep you informed of your vehicle's value during the course of your ownership. We will also provide you with honest, upfront pricing on a new similar model.
If for any reason during your visits you aren't provided with your Equity Promise handout, feel free to ask a manager, and we will promptly give you the proper information.
How Does It Benefit You?
New Factory Warranty
Increased safety and security features
Lower fuel cost and increased miles per gallon
Above market value for your vehicle
Reduced maintenance and repair cost
Quick and Easy Purchase Process
How Does It Benefit Us?
We need pre-owned vehicles for our certified inventory
We have complete service history on your pre-owned vehicle
Saves us time and money on trying to acquire these vehicles from alternate sources